Why choose TITAN Performance Apparel for your next custom order?
Wouldn't it be amazing if life were easier? If you had the power to change traffic lights to green and you always spotted the rock star car park? At TITAN, we love easy and that's why we can offer you the simplest, most convenient and efficient way to get into some new custom kit.
No Minimum Order & No Order Cycle - that's right, you can order as many or as few garments as you please, whenever you choose!
Wide Product Range - we offer multiple fabric 'levels' catering for the budget conscious beginner through to the high performance professional athlete. We specialise in cycling, triathlon, running, dance, soccer and casual apparel and can tailor our pattern templates to meet the needs of all body shapes and sizes.
FREE Graphic Design Service - we don't charge for design. We want to help you bring your ideas to life, for free!
Top Performance Partners - we only use top suppliers to produce the finest products available. We use Italian, Swiss and French fabrics such as MITI, SITIP, WINDTEX, PLASTOTEX etc coupled with Italian chamois options from Elastic Interface and TMF.
Express Door to Door Shipping - our normal delivery time is approximately 8 weeks commencing from the date of artwork and payment confirmation. This turnaround time may vary for large bulk orders or at certain times of the year (e.g. Christmas Holidays etc.). Smaller orders can be produced in shorter time frames and of course a rush service is always available for those last minute needs. If you order more than 10 main items we'll even provide you with FREE shipping!
100% ITALIAN Sublimation Technology - we only use the best Italian J-TECK eco-friendly sublimation inks and MONTI ANTONIO sublimation machines. We pride ourselves on bringing you vivid, crisp and fantastic colours that will never fade. We can even do hi-vis fluoro!
Competitive Pricing - when you combine our superior quality products and services with our competitive prices, you will realise what you've been missing out on in the past from other suppliers. We have some of the lowest prices on the market for single custom kits!
Club Rebate Program - we not only provide top quality garments that keep athletes comfortable when training and racing, we work closely with club committees, coaches and athletes of all abilities and experience levels to custom design programs that directly support club growth, improve committee efficiency and provide tangible value and benefit to members.
Online Team Store (Club Portal) - we aim to improve the efficiency of club ordering and minimise the stock levels that clubs need to keep on hand. We can provide a full online team store and club portal where club members can place and pay for apparel orders, and receive access to discounted pricing and special offers.

Global Operation in Australia, USA and Canada, with our own factory - we provide one-on-one 'signature service' and our team will personally help you bring your custom apparel ideas to life. We are cyclists and triathletes ourselves and we understand the competitive, comfort and functional needs of your apparel.
We cater for EVERYONE... from an individual order to large special event... from novice to professional.... no order is too big or too small. We assist you with every step of the process from design to production ensuring an efficient, effective and enjoyable experience.
Sports enthusiasts and athletes are able to feel more comfortable and race faster, and longer, with TITAN Performance Apparel.
Look good, feel great! Fill in the Contact Form below and we'll help bring your ideas to life!
---
SIZE CHART
IMPORTANT: Please note that our size charts are NOT for body size, they provide sizes of the finished garments. We suggest that you measure one of your existing garments (one in which you like the size/feel and fits you well) and then compare the measurements to our sizing charts. To measure your garment it is best to lay the item flat on a table or floor and then measure the specific areas according to our size charts. Compare measurements and select the most appropriate size garment for your needs.
TITAN Performance Apparel - 2020 Sizing Chart

Accessories- Sizing Guide

SS Cycling Jersey Apparel Size Chart 2020

TPA Cycling Bib Shorts Apparel Size Chart 2019
ORDERING PROCESS
Our experienced and friendly team work closely with you to ensure that your ordering process is simple, efficient, and positive and delivers quality garments to you in a timely manner. Our experience has shown that each custom order is different and each customer approaches us with different design ideas, at different stages of development and each has different expectations. This is why we love what we do. We love working with people and each job is always interesting and new – we are here to help bring YOUR ideas to life!
Whilst we highlight that every job is different, here's a general summary of what to expect when bringing your custom apparel to life:
Browse the PRE DESIGN TEMPLATES or RECENT WORKS on our website to inspire you with design concepts. If you already have a design brief, rough sketch, Google image of what you like or even a confirmed artistic design, you're already well and truly into the process! Don't forget that we offer FREE design services to help you – that's what we're here for.
Once you have an idea of what you might like, Contact Us and provide us as much information as you can. We would ask that at a minimum you provide us with the following details:

Design brief (this could be in the form of written/dot point instructions, hand drawn sketch, images of existing apparel that you like, the number of a PRE DESIGN TEMPLATES or RECENT WORKS image, or a formal design you've had created elsewhere)
Information relating to colours and placement of logos
Logos supplied in vector format (.ai or .eps)
Date of your event (or date you require apparel)
Contact details including name, email address and phone number

Submit your enquiry.
Once we receive your enquiry one of our friendly and experienced team will make contact with you. We will confirm that your enquiry has been received and also ask any questions to make sure we have an exact understanding of what you want.
Our graphic design team will be provided your brief. They will commence work on a number of draft design images suited to your requirements. If you have requested designs for multiple garment types (e.g. cycling jersey, running singlet, casual jacket, etc.) we typically provide designs on an individual garment type prior to moving to the next garment, just so we can make sure we're on track! Designs are usually returned to you within 24-48 hours.
Once you have received the draft designs we ask that you review each of them and provide feedback. Our team member will then work with you to revise and review as many times as required. Our priority is to ensure that you receive exactly what you want in a timely and efficient manner. Our graphic designers will provide you new / revised designs until you are satisfied with them.
Once design for the garment/s has been confirmed, our team member can you provide recommendations regarding the 'level' of product / fabric etc. that best suits your needs and budget. We offer multiple 'levels' within each product category and cater for the beginner through to the professional athlete, for the budget conscious through to the spend thrift. We provide you with transparent product recommendations based on your actual needs, should you wish for our advice.
Having confirmed your design and 'level' of product, our team member will provide you with a Product Confirmation and Invoice. The Product Confirmation provides specific details relating to the design, size, quantity, level etc. of your order. The invoice corresponds to the Product Confirmation. We seek your approval of both documents and provide you with a payment link. Payment can be made via credit card, PayPal or direct bank transfer.
Once the Product Confirmation has been approved and payment received in full your order will be expediently moved into production. We will keep you updated on the progress of you order and it will usually ship to you with 4-5 weeks.
When your order is completed we send it to your door using reputable and reliable express shipping providers. We provide you with a tracking number so you can follow its travel to your door. Wait 3-4 days (patiently if you can!) and you will then be riding, running, or swimming in your custom designed top quality apparel!
IT'S THAT EASY!
For those interested in establishing an online Team Store, please Contact Us and we can provide you further information and a demonstration of how the club portal operates.
TITAN Performance
Shop 3, 367-369 Brighton Road
Hove SA 5048
Australia
hello@titanperformance.com.au
PH (+61) 08 8296 5274
FREQUENTLY ASKED QUESTIONS
TITAN Performance
Shop 3, 367-369 Brighton Road
Hove SA 5048
Australia
hello@titanperformance.com.au
PH (+61) 08 8296 5274
TERMS & CONDITIONS
These Terms & Conditions apply to TITAN Performance Apparel (TITAN Performance Group Pty Ltd)
All TITAN Performance Apparel (TITAN Performance Group Pty Ltd) orders are subject to the following terms and conditions. By placing an order with TITAN Performance Group Pty Ltd you are agreeing to the following:
PRICING
Pricing is as shown on the TITAN Performance Apparel Product & Price List.
Discounts apply pending order quantity.
FREE SHIPPING on orders over 10 pieces in 129 countries.
All prices are in listed in either AUD. For shipments outside the Australia, the customer is responsible for all additional taxes, duties and charges.
Add-on options apply to all items ordered for each style per order etc. (e.g. zipper pockets, reflective pockets, etc.).
14 day Rush service is available for an additional charge of 50%.
21 day Rush service is available for an additional charge of 25%.
ORDER PROCESS
A deposit is required to begin the custom process should you require a fit kit. A deposit amount to be determined based on product needs is required to start the process and to secure a fit kit. The amount is applied towards your order. In the event that you receive a fit kit you are responsible for the shipping charges back to the TITAN Performance Group Pty Ltd at Shop 3, 367-369 Brighton Road, Hove, 5048, South Australia. Failure to return the kit within 2 weeks will result in you being charged the value of the kits that you have been provided. Additionally any item that does not come back in the same condition as it was received will result in you being charged the published price of that item.
The customer is responsible for entering the correct products, quantities and sizes if utilising our ordering system. The customer is responsible for confirming the correct products, quantities and sizes and all other details on the Product Confirmation document. You will receive a Production Confirmation detailing your complete order description and specifications.
Once your order has been submitted and artwork (Product Confirmation) has been approved (via email) no design or order changes will be accepted. There are NO EXCEPTIONS to this condition.
The total dollar amount of the order is due at the completion of the design stage and must be paid in full to begin production process. The order may be paid with a VISA, MasterCard, American Express, PayPal or certified cheque / money order payable to NTITAN Performance Group Pty Ltd.
Free shipping is provided on orders of 10+ items. Shipping charges of AUD$35 apply to orders of less than 10 items. Shipping charges are the responsibility of and payable by the customer.
You (the customer) are responsible for all colours, specific colour codes (PMS, CMYK), logo acceptance and approvals, permitted logo usage, etc. We recommend that you have a 'second set of eyes' evaluate your proofs and Product Confirmation to ensure the accuracy of your design and order details. Computer screens are all different and colours can vary between them; be specific as to which shade you want printed, or provide exact colour code numbers (e.g. Pantone numbers).
The customer is responsible for final approval of spelling and/or grammar on all artwork and designs.
The TITAN Performance Group Pty Ltd logo will appear on the front and back of all custom garments. The TITAN logo will appear on the front left breast of all custom garments.
The customer is responsible for receiving permission for the use of all logos and/or copyrighted material incorporated into the design. TITAN Performance Group Pty Ltd accepts no liability or responsibility for the use of logos and/or copyrighted materials. By confirming final approval of the Product Confirmation the customer accepts liability for any copyright or other infringements resulting from the use of logos or other materials.
TITAN Performance Group Pty Ltd reserves the right to use reproductions of customers' clothing in TITAN Performance Group Pty Ltd advertising, marketing and any other hard copy or electronic publications as may be relevant.
All sales are final.
SHIPPING
FREE SHIPPING on orders of 10+ pieces in 129 countries and regions, except orders sent to remote areas in DHL, UPS, TNT or FEDEX's dispatching system.
For shipments outside Australia, the customer is responsible for all additional taxes, duties and charges.
Tracking number will be provided upon shipping. Standard shipping times are 4-7 weeks from date of payment confirmation.
Rush service is available at a 50% surcharge if you need your order shipped in 14 days.
Rush service is available at a 25% surcharge if you need your order shipped in 21 days.
For orders of less than 10 pieces, an AUD$35 shipping and handling fee (per order) will be charged and is payable by the customer.
TITAN Performance Group Pty Ltd only ships with the most reliable express carriers: DHL, UPS, TNT or FEDEX.
The 129 countries and regions with FREE SHIPPING policy are: USA, Canada, UK, Australia, New Zealand, Ireland, Italy, Spain, Switzerland, Denmark, France, Germany, Netherland, Sweden, Norway, Finland, Belgium, Israel, South Africa, Singapore, Malaysia, Japan, South Korea, China, Hong Kong, Macau, Taiwan, Brunei, Cambodia, Vietnam, Philippines, Thailand, Laos, Indonesia, Pakistan, Mexico, San Marino, Austria, Guernsey, Jersey, Cyprus, Estonia, Latvia, Lithuania, Czech Republic, Poland, Andorra, Gibraltar, Iceland, Luxembourg, Portugal, Greece, Bulgaria, Slovakia, Malta, Slovenia, Hungary, Romania, Canary Islands, Faroe Islands, Greenland, Bahrain, Qatar, Kuwait, Turkey, Lebanon, Syria, Iraq, Iran, Jordan, United Arab Emirates, Oman, Saudi Arabia, Yemen, Sudan, Dominica, Paraguay, Panama, Costa Rica, Peru, Dominican Republic, Argentina, Jamaica, Cuba, Anguilla, Aruba, Bermuda, Bonaire, French Guyana, British Guyana, Martinique, Nevis, Puerto Rico, St. Eustatius, St. Maarten, British Virgin Islands, US Virgin islands, Cayman Islands, Belize, Bolivia, Colombia, Curacao, El Salvador, Guadeloupe, Honduras, Venezuela, Chile, Trinidad & Tobago, Brazil, Uruguay, Antigua, Barbados, Ecuador, Grenada, Haiti, Mongolia, Nicaragua, Sao Tome & Principe, St. Kitts, St. Vincent, Turks & Caicos Islands, Montserrat, Saint Barthélemy, St. Lucia, Suriname, Guatemala, Bahamas, Kenya, Ethiopia.
ART & DESIGN
Art Guidelines
Your artwork should be created in a vector-based software program, such as Adobe Illustrator or Macromedia Freehand, and then saved to one of our supported formats (.eps, .cdr, .ai, .fh). Vector art is made from a series of mathematical curves and is the key for printing because vector-based images can be scaled indefinitely without degrading. Your vector logo will be printed with maximum precision even when resized. A low-resolution raster graphic would blur excessively if it were enlarged. Most logos are created as vector files. Logos taken from websites, business card images or faxed logos are low resolution and are not suitable for printing.
Vector logos can be scaled indefinitely without degrading. Non-vector artwork is identifiable if the file you have ends in .JPEG, .GIF, .BMP.
If you can't get your logos in vector format, please make sure the images are of high resolution: 300 dpi n scale, 1:1 (.pdf, .jpg, .tif).
Pantone Colours
The Pantone® Matching System is the industry standard color matching system.
TITAN Performance Group Pty Ltd uses the COATED version of these PMS colours. Please note: The colour chart below may vary depending on computer monitors but offers a rough way to choose colors. If absolute true colors are necessary, a Pantone® Colour Formula Book is recommended and can be found in most art stores.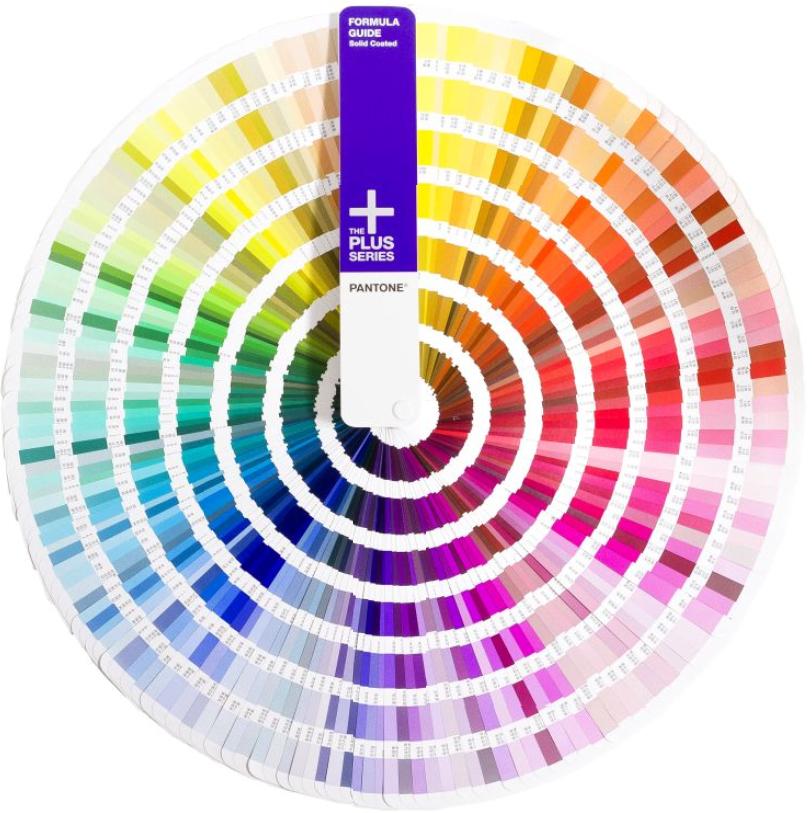 WARRANTY & CARE INSTRUCTIONS
Due to the custom nature of this order, all sales are final and no returns will be accepted unless the merchandise is determined to have a manufacturing defect. Manufacturing defect means a defective product upon customers' receipt of the item or printing error of the customers' artwork. Customers are responsible for reporting to any defect TITAN Performance Group Pty Ltd immediately upon receipt of the item and before wearing it. Customers shall be responsible for following the care instructions on wash care/inner collar/label to maximise the product's performance and life span.
Care, Washing and Storage Instructions
Please adhere to the below care, washing and storage instructions to prolong the durability and performance of your cycling, triathlon, running and casual garments. Remember, like every form of clothing and apparel, cycling, triathlon, running and casual apparel is not made to last forever. However, by following a few simple but essential guidelines, you can extend the lifespan and performance of your garments.
Before the ride
Never use creams, liquids and products for warming up (winter) or sun protection (summer) under the garments made with elastic fibres. These products contains chemicals which can quickly lead to fibre deterioration in all garments made with spandex.
After the ride
After each ride, hang the garments in a well-ventilated environment or wash them immediately. Do not hang the garments in the direct sunlight. Never store damp clothes in a non-ventilated environment (e.g. plastic bags, sport bag, suitcase, etc.). If your body has a tendency for heavy perspiration, water-rinse the garments after each use to protect the fibres from bacterial attacks which might lead to fabric deterioration.
Wash
Washing a garment means putting stress on fabric and seams! Therefore, hand wash garments separately from other clothes and accessories to prevent friction. Before washing, turn the garments inside out (seams on the outside). Do not use bleachers and/or softeners. Use a mild liquid detergent only. Do not soak, wring or rub. Do not spin after washing. To remove excess water from your garment gently squeeze by hand. Dry garments flat or hanging, but do not tumble dry. Use only luke warm water.
Potential Concerns
Fabric piling
Fabric piling does not occur by itself. It is always as a result of abrasion. For this reason we suggest you do not use embroidered saddles and make sure the Velcro fastener of the saddle pocket does not touch the shorts. Saddle designs which expose the top part of your seat post do cause "touching" and lead to piling.
Do not wash your shorts or jerseys together with gloves, bags, rain jackets or other accessories because of the Velcro straps! Unfortunately such a problem is never considered a manufacturing defect as it is the direct result of the above described elements.
Fabric deterioration
Sweat is toxic and can lead to bacterial attack. Due to the performance nature of the fabrics used within our garments they are delicate and deterioration may eventually occur. In order to minimize this problem and maximise the lifespan of your apparel, we recommend you water rinse the garment after each ride/use. Also, never store a moist garment in a closed environment like a plastic bag as this will exacerbate the growth of bacteria.
TITAN Performance
Shop 3, 367-369 Brighton Road
Hove SA 5048
Australia
hello@titanperformance.com.au
PH (+61) 08 8296 5274
Titan Triathlon Blank Templates
Titan Running Blank Templates
Titan Casual Blank Templates
Titan Cycling Blank Templates
Titan Cycling Blank Templates